Ulrich Engel OP: Co-curator of the Dominican Jubilee Art Exhibition 

[23.11.2016] If an anniversary of eight centuries, as the Order of Preachers celebrates this year (1216/17 – 2016/17), looks back to the past, it also invites us to embrace the present and reflect upon a vision of the future. The title of an art exhibition at Santa Sabina (Rome) – "AUGURI" – suggests such a perspective.
15 dominican artists: Fifteen banners hung in the side naves of this Paleo-Christian basilica Santa Sabina given to St Dominic by the Pope in 1220 are expressive of so many figures from the Dominican tradition. Each brother, sister or laity exemplifying the multitude of charisms of the Order of Preachers.
Kris Martin and Adam Rokosz: Two current artists form the contemporary heart of the exhibition. The first has no particular link with the family of St Dominic. Kris Martin enjoys an international reputation. His artwork conveys his thoughts on what he sees around him and presents certain challenges to those who are willing to give his work time. He received carte blanche to exhibit in Santa Sabina and his artwork will stimulate both those who usually frequent the basilica and those who are welcome for this exhibition. The second, Adam Rokosz OP, is a young Dominican photographer from Vienna who is displaying five photographs on the theme of the incarnation. The two artists found here together express another important aspect of the Dominican Tradition: dialogue. The stranger is welcomed right into the curial house of the Order of Preachers.
The exhibition AUGURI was curated by Dr. Alain Arnould OP (Bruxelles), Dr. Franklin Buitrago OP (Roma / Bogotá) and Prof. Dr. Ulrich Engel OP (Institut M.-Dominique Chenu Berlin).

Three diffrent catalogs can be purchased by mail at Cette adresse e-mail est protégée contre les robots spammeurs. Vous devez activer le JavaScript pour la visualiser.. Dominican Banners: 15.00 € / Adam Rokosz OP: 10,00 € / Kris Martin: 15.00 €.  
For more Information see AUGURI Website >>
Some practical information >> 

Website of Kris Martin (by Galerie König Berlin) >> 
Website of Adam Rokosz OP >>
Dennis Halft OP nach Berlin assigniert

Foto: Allgemeine Zeitung
[05.11.2016] Nach Abgabe seiner Dissertationsschrift im Fach Islamwissenschaft (Freie Universität Berlin) und nach Abschluss seines Studiums der Katholischen Theologie (Universität Mainz) sowie nach seiner Weihe zum Diakon am 29.10.2016 in Mainz assignierte der Provinzial der Dominikaner-Provinz Teutonia, Dr. Johannes Bunnenberg OP (Köln), unseren Mitbruder Dennis Halft OP, M.A., Dipl.-Theol., Anfang November 2016 in die Kommunität am Institut M.-Dominique Cheu Berlin.
Dennis Halft wird zukünftig im Rahmen eines Post Doc-Stipendiums in Israel forschen. Zudem nimmt er im Wintersemester 2016/17 einen Lehrauftrag ("Mystische Dimensionen im Islam") an der Philosophisch-Theologischen Hochschule Münster wahr. Im Institut M.-Dominique Chenu wird Halft sich - wie schon zuvor - an verschiedenen Forschungsprojekten beteiligen.
Die Kommunität am Institut M.-Dominique Chenu freut sich über die Verstärkung. Herzlich willkommen!
Ulrich Engel OP arbeitet an niederländischer Buchpublikation mit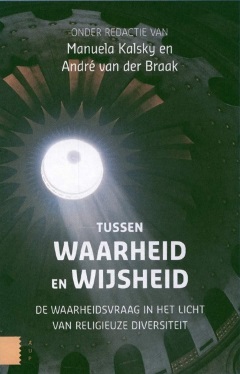 [01.11.2016] Anlässlich des 800-Jahr-Jubiläums des Predigerordens veröffentlichte das Dominicaans Studiecentrum voor Theologie en Samenleving (DSTS) in Amsterdam einen Sammelband zum Motto der Dominikaner: "Wahrheit". Unter dem Titel "Tussen waarheid en wijsheid" versammelt das Buch Beiträge 15 Beiträge zum Thema. Prof. Dr. Ulrich Engel OP (Institut M.-Dominique Chenu Berlin / Philosophisch-Theologische Hochschule Münster) ist als einziger nich-niederländischer Autor mit einem Text vertreten: "Het zoeken naar waarheid als democratische dialoog".
Bibliographie: Ulrich Engel, Het zoeken naar waarheid als democratische dialoog. 800 jaar communicatieve praktijk in de orde der dominicanen, in: Manuela Kalsky / André van der Braak (Red.), Tussen waarheid en wijsheid. De waarheidsvraag in het licht van religieuze diversiteit, Amsterdam 2016, 107-122.
Weitere Informationen auf der Website des DSTS (niederländisch) >>